There is more tech available to businesses of all sizes than ever before. Whether your company wants to streamline workflows, attract new customers or improve team communication, there is a solution.
However, it can be hard to know what will provide the best return on investment or be the right fit for your business's specific needs. This is especially true if your company is experiencing rapid growth, and you need new tech to manage the demand.
These six tech investments will yield big benefits for your company:
1. Live Chat and Chatbots
When customers need help, they don't want to wait and will respond positively to fast service. Internet-based live chat is a good solution. With a live chat widget on your website, people will have instant access to your business's customer service team.
Live chat is somewhat labor-intensive. With the right tech, though, even small businesses can manage it. Automated services, like chatbots and chatflows, can field customer requests as they come in and provide an instant response. Simple, rule-based chatbots can use preprogrammed phrases to steer visitors in the right direction.
More advanced AI-powered chatbots may be able to handle simple requests entirely by themselves. Some can also collect information on what a customer needs or how they feel using sentiment analysis. This helps reps once the bot passes off the client's request to them.
2. More Payment Options
Many customers find it much more convenient to use a mobile device to pay rather than cash or a card. The variety of methods available has grown significantly over the past few years. This means people are more likely than ever to have a mobile payment-ready device on them when checking out.
Mobile payment has been around for a while but has become much more popular recently. By adding this option to your point of sale, you can make the checkout process a little more streamlined.
If your business earns most of its sales through online channels, you can also expand your payment options online. Most major e-commerce platforms support alternative payment options like PayPal, Google Pay, Amazon Pay and Apple Pay. Offering these provides some extra convenience for your customers, which can reduce the rate of online cart abandonment.
3. Digital Marketing and Customer Experience Management Software
Customer experience is the total collection of experiences someone has over the course of their relationship with your business. 
Customer experience management (CXM) platforms help you unify your strategy. You can bring together a wide range of digital marketing strategies, collecting data from your site, social media and email campaigns.
A CXM platform can ensure you properly onboard new customers, nurture potential leads and target people with the deals and offers that will be most relevant to them. They'll also help you collect and analyze information you can use to improve your overall customer experience. For example, many CXM platforms collect data on how visitors are interacting with your website. This can allow you to optimize your site, ensuring it's as easy to use as possible.
4. Better Signage
Most businesses use old standards for in-store advertising, like printed signage. Upgrade with new digital technology
Many companies turn to projectors if they want large, wall-displayed videos or advertisements. However, they can be somewhat dim and require frequent bulb replacements.
Programmable LED displays are a more flexible signage solution. They show videos like projectors but are significantly brighter. The content can also be changed on the fly if needed. If your business wants a unique in-store advertising approach, LED signs are a great option.
Smart displays are another possibility. They're made up of screens or other digital elements that can be adjusted based on customer traffic levels or nearby products. Some smart shelf displays, for example, will automatically update based on the products that are shelved, displaying information and relevant deals.
5. Cloud Storage and Collaboration Tech
You and your team may not always be in the office. This can make it hard to ensure critical documents are available. 
You're probably familiar with cloud storage. Services that offer it provide online file storage and sometimes feature built-in collaboration tools. With the right service, you can upload a spreadsheet and it will be instantly available for another team member to edit.
Cloud-based collaboration and chat tools can help further improve communication and collaboration among distributed teams. Enterprise messaging apps allow you to organize your team's communication and quickly share resources or project updates that will be visible to everyone. These apps will also naturally create logs of your discussions. This means that if you need to provide a quick update on a project's status to a client, you can quickly check what work is currently being done.
6. Tighter Cybersecurity
Data breaches are a serious threat. While many cybercriminals go after high-profile targets, hackers also attack small and medium businesses. The cost of a data breach can be substantial — in some cases, enough to put a company into debt. Worse, these breaches also tend to hurt consumer trust in your brand, which can be damaging for small businesses that rely on loyal repeat customers.
Investing in cybersecurity training, staff and technology will help you keep your business's data safe. The right tech can keep hackers from gaining access to your network or files, preventing them from stealing or destroying your business's information. 
Cybersecurity solutions can automatically detect network intrusions or encrypt important data that you store — like customer passwords and emails. This will ensure that if hackers gain access to your business's network, they won't be able to steal your customers' information.
7. Choosing the Right Tech Investments for Your Business
If you want to grow your business, choosing the right tech is essential. For almost any problem your company may have, there's a tech investment that can help. Implement one or several of them to keep your operations safe and improve the customer experience.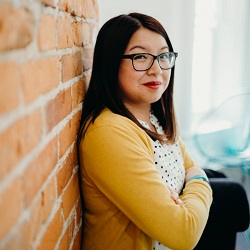 Lexie is a UX designer and digital nomad. She enjoys kayaking with her goldendoodle and baking new cookie recipes. Check out her design blog, Design Roast, and connect with her on Twitter @lexieludesigner.