With the growing number of online buyers, moving your brick-and-mortar business online will allow you to reach more customers. Instead of being limited to the foot traffic in your area, you can reach customers from other cities, states, or even countries, if you're running an online store.
As good as that may sound, however, it's worth mentioning that the ecommerce competition is fierce. Also, there are a lot of aspects that you need to consider and give focus to if you want to succeed. You need to be mindful of your marketing strategies, maintaining your online store, and processing your orders.
That's why you need to have the right ecommerce tools in place. With the right plugins and software, not only will you be able to accomplish all of your tasks with a high level of accuracy, but you can even save time and focus on the more important aspects of your business.
Here are 8 tools that will help you run your ecommerce store more smoothly.
1. Oberlo
Dropshipping is an ecommerce business model that allows you to sell products without you having to keep them in stock.You can find products and integrate them into your store through an ecommerce solution, such as Oberlo.
Oberlo lets you find products from reliable suppliers and add the products to your ecommerce store, among other things. Because the platform streamlines the product integration from the supplier to your ecommerce store, you can import product details in just a few clicks. With that, you won't have to manually copy the product images and specifications from the supplier into your website.
What's more, you won't have to check the product inventory daily to make sure that the products available on your suppliers match what you show on your site.Oberlo can help you with these instead of you spending countless hours doing these menial, yet important tasks.
2. Ubersuggest
Website traffic can be an indicator of how effective your marketing and SEO efforts are.After all, a poorly planned and executed marketing/SEO campaign won't bring you website traffic.
If you're targeting the wrong keywords, creating content and running natural link building campaigns to improve your search engine rankings is going to be a waste of time.There's no point in ranking for keywords that do not have enough search volume or pursuing keywords that are irrelevant to your business.
That's how important keyword research is. To come up with keywords worth targeting, use a reliable keyword research tool. Ubersuggest is one such tool. It helps you generate keyword ideas that will improve your content marketing.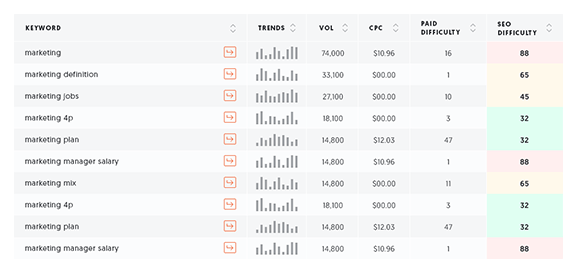 Ubersuggest also shows long-tail versions, keyword difficulty, monthly search volume, etc. These are crucial bits of information that you need to consider when deciding which keywords to pursue.
3. Mailchimp
Mailchimp powers your email marketing efforts with its customizable templates, an RSS-to-email feature that keeps subscribers alert to your latest posts, and automated email campaigns such as a date-based email feature.Unlike social networks where you send status updates to every follower without any touch of personalization, email allows you to be hyper-targeted with your communications.
It has a form builder and built-in landing page as well to help you with the lead generation aspect of your email marketing campaign. Also, Mailchimp can help you with managing abandoned cart sales by sending an email reminding your potential customers of their abandoned carts. Additionally, starting Mailchimp is free!
4. Shopify
Speaking of ecommerce platforms, choosing the right one is crucial to your success – from converting your ideas into reality to engaging your customers.Shopify incorporates your needs in building an ecommerce shop in one package, even providing free themes for you without writing a single code.
Shopify has an inventory system, traffic and cart analytics, and lets you sell across multiple channels, including Instagram and Amazon.It also provides you with a supportive community and guidelines to grow in this venture as well.
6. Mobile-Friendly Test
A mobile-friendly website is important for ecommerce store owners since most internet users are using mobile devices.By making your ecommerce site mobile-friendly, you will gain more visitors and improve your search engine ranking.
Using Google's Mobile-Friendly Test Tool is a quick and easy way to evaluate whether your online store works well on mobile devices. The test results will show a screenshot of how the page looks on a mobile device and a list of any mobile usability problems that it finds, prompting you to enhance the page with suggestions on optimization.
7. Buffer
Social media is a platform you should not neglect, especially when starting a blog from scratch.
It's an avenue to share your blog posts and a cost-effective way of building brand awareness, a reliable source of traffic, and engagement with your audience.
Using a social media automation tool such as Buffer can help you trickle your online store's curated content to your social media pages.
One of its key benefits is the "Posting Schedule" feature which lets you schedule posts across social networks when your audience is most active.
While building more followers on Facebook and Instagram, Buffer enables you to streamline the management of multiple posts among social media networks.
We are not mentioning it separately, but an important tip to improve your eCommerce social media also involves creating images and graphics to reach your target customers. To do that effectively you can use image design tools like Canva, Photoshop & Picmonkey etc.
8. Pagespeed Insights
A faster page speed brings a better user experience.
If it takes over three seconds for a website to load, 40 percent of online consumers would immediately leave.
Track your site's load speed using tools such as PageSpeed Insights. Just enter your page's address, and it will assess your site's page speed.
The tool scans your website and reveals areas that are causing it to load slowly. Also, it offers suggestions on how to fix your website.
Conclusion
Running an ecommerce store can be challenging, but with the right tools, you can automate a lot of your tasks, making it easier to run your store. While the tools we shared above are far from being complete, using these tools alone will help improve how you manage your ecommerce store.
Is this article helpful? Show us some love by sharing this with your friends! Cheers!
(Featured Image Source: Pixabay)