Increase Your Business Success Through Customer Data Platforms
A Customer Data Platform (CDP) is a database software that creates persistent, unified records of all of your customers, their attributes, and their data. CDPs collect data from known customers, as well as anonymous contact data, to provide insights about everyone who is accessing your business. This software has the capability of combining fragmented data across a customer's buying history, allowing for targeted marketing, which will keep individuals connected with your business and interested in what you have to offer.
If you are looking to increase your business success with a CDP, read on to learn:
the types of data that you can collect to form a customer profile with a CDP,
what a CDP is capable of and how it differs from other data platforms,
how a CDP will work across departments to make your business more customer-centric, and
how key performance indices can show if your marketing strategies are creating and retaining customers.
Types of data a CDP can collect
Using a CDP allows your business to collect a wide variety of information across a customer's buying history and website engagement. The data a CDP collects includes:
Events: user's actions on a website, app, or mobile browser.
Customer attributes: names, addresses, contact details, birthdays, etc. Advanced CDPs can make machine learning-powered predictions, such as likelihood to purchase.
Transactional data: purchases, returns, and other info from POS systems.
Campaign metrics: engagement, reach, impressions, etc.
Customer service: chat info, length and frequency, NPS scores, and other data from CRM systems.
Why should you use a CDP?

<Image: Capabilities of CDPs (Source Exponea) >
With a CDP, customer data is neatly organized and available for immediate use. Some technical resources are required to set up and maintain the CDP, but it does not require a high level of technical skill compared to a traditional data warehouse.
CDPs have the capability of merging customer data from purchases made on multiple devices, as well as in-store activities, into one central location. This function creates a single customer view (purchase history, site activity, product recommendations), and builds a picture of your customers on an individual level.
Combining full customer profiles with conversion rate optimization and A/B testing, CDPs can identify what and where to optimize in order to have more customers convert (complete a goal, such as making a purchase or signing up for an email list). This allows you to deliver targeted and personalized marketing experiences to every customer segment.
Some CDPs can make AI-powered predictions. These predictions can enrich your customer profiles (probability of purchase, churn, visits, emails opened), which can then be used to make more effective business decisions.
Furthermore, CDPs can be used in conjunction with product recommendation engines. These recommendations allow you to guide your customers with personalized and timely messages sent to their preferred channel (social media, email, etc.). This can drive engagement, increase brand loyalty, and sell, up-sell, or cross-sell your products or services. In addition, this data can then be used by 3rd party tools or marketing automation tools to execute marketing activities and analyze their performance.
A CDP also allows you to use behavioral data to enhance email deliverability. For instance, behavioral data gathered from a CDP can be used to determine the ideal sending time for each user.
…A further note on email deliverability
If you want your emails to be delivered, try to think like an ISP. If no one is clicking on your emails, they may end up in the spam folder…or even not delivered at all. Additionally, many tests have proven the correlation between email size and deliverability. The common recommendation for not being marked as spam is to keep the email body size between 15 KB and 100 KB.
How are CDPs different from other solutions?
Other platforms are powerful in their own way and can even complement a CDP. However, the fundamental difference between CDPs and other data solutions is that CDPs collect data from known members, as well as anonymous contact data—like website engagement—from newcomers, to provide insights about everyone who is accessing your business.
Additionally, a CDP is built to handle large volumes of dynamic data, and doesn't rely on SQL coding to access and run queries, as does a Customer Relationship Management (CRM) system, for instance.
CDPs and CRMs can segment your contacts and send targeted marketing, but with the insight garnered from anonymous behavior, a CDP can have a jump-start on targeted messages. A CDP also has the ability to share customer data across marketing platforms.
Both CDPs and CRMs handle customer profile data with ease. With both platforms, you will need to ensure you are communicating appropriately with your customers. This includes the tiniest details, such as how you end your emails to a customer.
To make the most of a CDP, you need a customer-centric organization
Customer-centric marketing allows you to put customers (not categories, channels, or events) at the center of all analyses and decision making. Key performance indicators (KPIs) are one of the first, and most important ways that your team will determine success of their campaigns.
Examples of KPIs
● Average Customer Lifetime Value (CLV): measures the profit your business makes from an individual. This is a key metric for understanding your customers.
● Customer Equity: measures the total value of new customer relationships in a given period, and gives an at-a-glance measure of the quality of your customer base.
● Customer Lifecycle Distribution: measures swings in the distribution of customers and can point to changes in customer loyalty.
KPIs are the single most important source for knowing if your marketing strategies are creating and retaining customer value.
Why become customer-centric?
CDPs are, by nature, customer-centric. Company structures very often are not. Consider marketing departments: often, teams are built around channels (email, direct mail, SMS, etc.), creating a fragmented picture of your customer and a disconnect between the departments.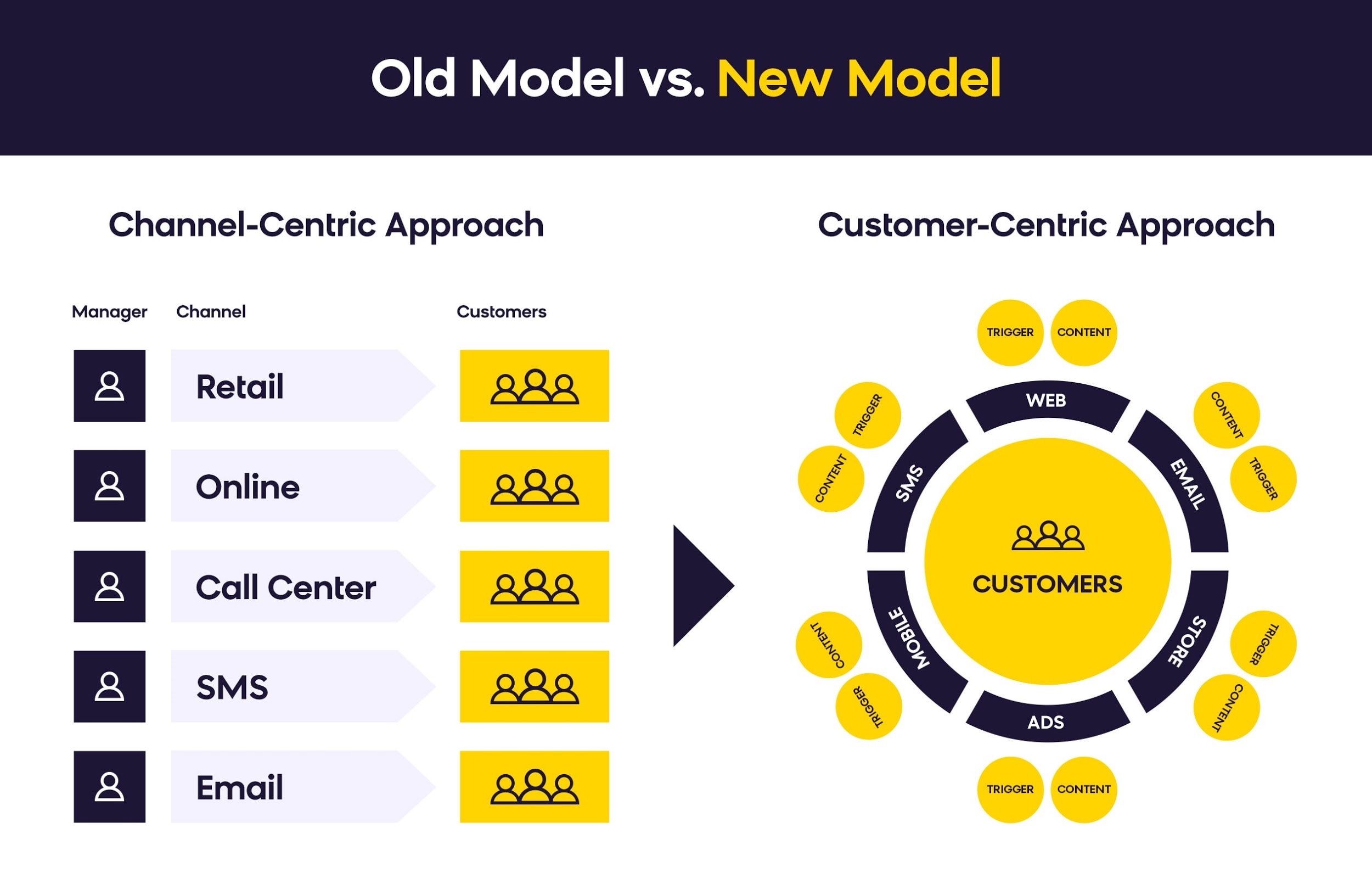 <Image: Old Model vs. New Model. Demonstrating channel-centric to customer-centric approaches (Source: Exponea)>
Making sure that members across multiple departments understand the customer and have access to full customer profiles will help increase customer-centricity within your whole company.
How CDPs can help a variety of departments
Marketing
● True single customer view. Unified, holistic customer profiles means a significantly better understanding of the customer.
● Omni-channel marketing. Many CDPs have omni-channel capabilities, and those that don't are usually able to integrate with the marketing platforms you already use.
● Data-driven decisions. Powerful segmentation and analytic abilities provide insights informed by data, making it easier to support new initiatives.
Sales
● Lead scoring. After ingesting data from all sources and compiling it into a single profile of a customer, a CDP can then rank those actions to determine how "hot" a lead is, and reach out accordingly. Sales teams can be automatically notified of hot leads via integration with an internal messaging tool.
● True single customer view. Having all the information about a prospect in one profile can add valuable context to a sales conversation.
Customer Service
● Increased customer satisfaction. Complete customer profiles provide crucial context to customer conversations, leading to better customer experiences.
● Automated customer care. Ability to send surveys or other communications to customers who have recently interacted with your brand.
● Support triaging. CDPs can perform triage on customers in need of support, and ensure that those customers with the most urgent needs are managed as soon as possible.
Your Next Step…
Implementing a new CDP at your company can lead you to further growing a successful business. The centralized location of data from multiple channels, its ability to further the capabilities of platforms such as CRM, and a CDP's ability to also include data collection through anonymous contact data, aids in targeted and personalized messages. It's accessibility, integration into a single customer view, and ability to help your company become more customer-centric across departments are among the reasons why your business should consider implementing a CDP.
Success with a CDP project is a process, but by laying the right foundation, with a trusted vendor, such as Exponea or others, you can make a valuable endeavour much more likely. With your vendor's assistance, implementing a CDP into your business is sure to boost success!
Matej Cambal
Author's BIO: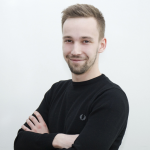 Matej joined the Exponea team in January 2017 as a Customer Analytics Consultant.
He has been working with Exponea for over 3 years, where he spends his time contributing to projects across various levels of complexities and in different verticals. All of these projects dealt with email as a channel and required managing email deliverability. His goal is to help Exponea clients with all their challenges and requirements, both common and uncommon – whether that's setting up their emailing from scratch, preparing custom reporting and extracting insights, or solving ad-hoc deliverability issues.
Author's LinkedIn – https://www.linkedin.com/in/matej-cambal-6648b567/