Mind-mapping software like EdrawMind helps you organize your ideas by transforming them into diagrams.
As a business owner, you and your staff will routinely meet to go through concepts, map out strategies, and organize the week's tasks.
EdrawMind Online allows you to create a visual picture of your approach, helping you to see clearly into the future, and reducing the likelihood of any unforeseen missteps. It's a great way to force yourself to be creative while still keeping your thoughts organized.
What follows is a deep dive into EdrawMind's functionality.
EdrawMind Overview
Similar to other user-friendly SaaS applications, EdrawMind caters to those with little to no technical experience.
The app's drag-and-drop map editor and other user-friendly features make it accessible to users of all skill levels.
You may discover many samples and starting points in the site's gallery. The app's eight diagram kinds and roughly eighty pages of settings cover a wide range of uses, from educational charts and strategic plots to personal life maps and visual timelines.
You may learn about the full range of EdrawMind's capabilities and the kinds of maps you can create from scratch by experimenting with the program's presets.
Come, I'll explain how to use the dashboard.
Dashboard
Two panels for mind mapping are shown on a whiteboard on the home page. The right panel contains additional information, while the top bar enables rapid access to critical process activities. All of the buttons clearly display icons that correspond to their respective functions. However, if you come across an unknown action, just move the mouse over the CTA and its characteristics will be shown.
The chart design in the mind mapping editor is comparable to that of Excel's graphing editor, with the exception that EdrawMind offers greater room and customization options to support elaborate planning. You may make many pages in the app so you can work on different plans simultaneously.
Unlike competing products, you may try out EdrawMind before deciding whether or not to purchase it. A free account is available to anybody who wants to try out EdrawMind.
There are limits to the free plan, but you may use it to see whether the paid version would meet your needs.
In order to give you a feel for EdrawMind, I'll be taking you through its 10 most fundamental features.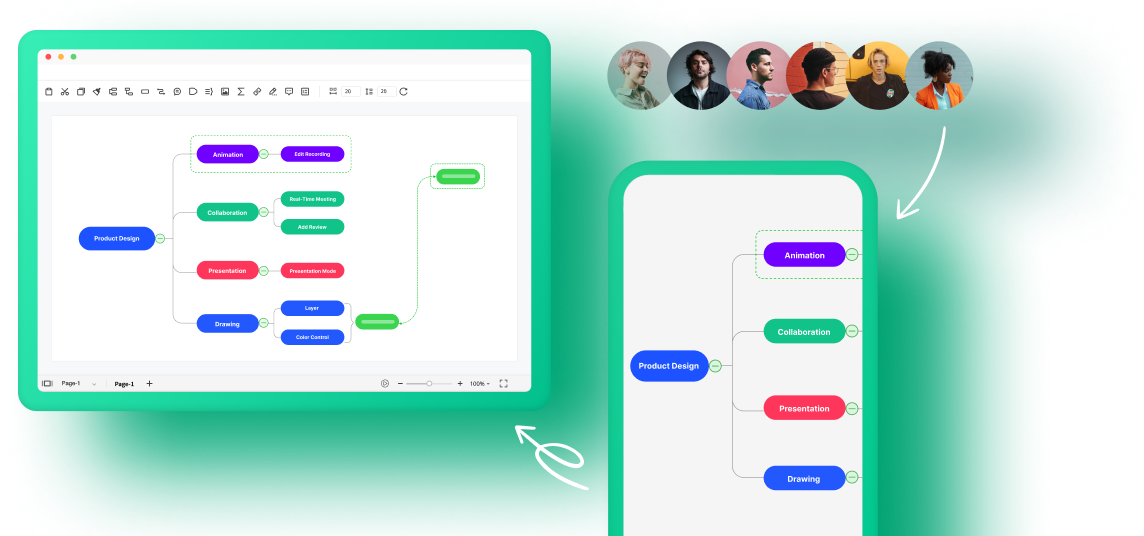 1. Custom Mind Mapping
You probably already know that while mind mapping, it's common practise to draw connections off of the main idea. In order to identify the steps you need to take to reach your objective, it might be helpful to map them out in a clear, visually appealing graph.
To help you design your blueprint, EdrawMind gives you a blank canvas and four command buttons. These "boxes" and "lines" may stand in for goals, major outcomes, and connections between themes.
The above picture is a free SEO template I downloaded from their website. Goals are shown as curving branches connecting parent and child buttons.
They built a complete strategy to represent the plan of attack with only two moves.
2. Smart Layouts
The layout button is one of EdrawMind's most useful and user-friendly options. Using the function's drop-down menu, you may pick a pre-made layout, and your current map will be updated mechanically to reflect your selection. In addition to the layout button, you'll see the theme choice. The theme CTA will build many variations of your chart to display its various looks.
I'll illustrate with an example.
Do you recall the SEO-related graph I showed you earlier?
I considered giving it a new look and settled on a Fishbone structure from the available options. Once I selected the design, the map immediately reshaped my chart into the appropriate format, and the themes' recommendations shifted to accommodate the new, Fishbone-style layout.
They are exceptional features that will aid you in visualising your map.
3. ClipArt Collection
In addition to pre-made templates, EdrawMind provides a library of symbols you may use to customise your final map. While the premium plan provides access to a larger library of clip art, the free account stil provides a respectable variety with which to experiment.
These components may aid in communicating ideas without using words.
You may use a flag to signify urgency, an emoji to express your thoughts on the project's development, or a symbol to represent a target.
Since a diagram can't show everything, symbols are used to convey meaning or draw focus to important details.
4. Personalization
Your map may be made to look exactly as you want it to with the help of EdrawMind's array of colours and picture editing tools.
Change the way things seem in the backdrop, swap out the colour of your shapes, try out other fonts, and even change the colour scheme entirely. Add images, rearrange them, and change the text in your project block to suit your needs.
While EdrawMind does not provide a free transformation option to resize the boxes, it does provide a variety of shapes that may be used to modify their appearance. You may also increase the size of the text and play about with the thickness of the branches.
Suffice it to say that you have plenty of control over how your graph looks inside the programme.
5. Brainstorming Space
Before diving into map creation, EdrawMind provides a dedicated area for you to collect your ideas.
You may use the panel's shared typing space and notetaking space to jot down some thoughts. As soon as you're done, you may start building your map by dragging the points onto the main canvas. Floating boxes will appear in the shape of whatever sentence you copy and paste onto the whiteboard.
Since the first step in creating a mind map is often brainstorming, the availability of a clean slate on which to experiment is a nice perk. You may scribble down whatever ideas come to mind without thinking about formatting or whether or not they belong on your map.
6. Chart Outline
In EdrawMind, you may use the "Outline" function to have bullet points generated for you while you work on your diagram, providing you with a written summary of your drawing as you go.
This feature streamlines the connections between concepts and converts a visually complicated map into a textual one.
Aside from letting you edit the text right on the outline, it also lets you see any hiccups in your map's design. Both sides will reflect any changes you make to the outline or map.
Those who deal with extensive or intricate charts may find this tool invaluable.
7. Slideshow
The fundamental feature of EdrawMind is called Slideshow, and it allows you to organise your map as a series of slides. You may do manual or automated slides using this option, which is located on the top panel with four actions.
To create a slideshow based on your preferences, just choose the slides you'd want to include and click "Add Topic." All that's needed to set in motion a chain of events is to click the slide tool's "initial action button" function.
This function is helpful for presentations since it prevents the presenter from having to repeatedly zoom in and out of the map.
However, slides cannot be exported from the free version. You'll need a more expensive package for that.
8. Collaboration And Engagement Features
EdrawMmind's strengths as a presentation tool lie in the fact that it includes tools for group work and audience participation.
You may invite others to work with you and give them specific tasks with the help of this feature. Your team will be able to see your map and change any cell after you've asked them to do so.
You may also encrypt the URL to your chart before sharing it on social media, so that only a select group of people will be able to see it. The latter, however, is reserved for the premium edition.
When it comes to interaction, EdrawMind has a number of options in the main menu for presenting directions. You may make notes, include links, leave a remark, or even compose a short summary.
You may more easily share your thoughts and information with your team thanks to the collaboration and engagement capabilities.
9. Gantt Chart Mode (Paid Feature)
EdrawMind's Gantt chart is a premium add-on, but its usefulness warrants noting.
It features a sophisticated function that generates a project timeline.
When you click on it, a horizontal screen that looks a lot like an Excel spreadsheet will pop up, and there's where you'll discover all the information about your project chores in one place, where you can easily make any necessary changes.
Time, number of days, and overall project due date may all be entered individually for each assignment. In addition, you have the option of making your objective a priority and dedicating it to a specific teammate.
It's a crucial feature for monitoring the crew and keeping tabs on the task in progress.
10. Integrations
As a cross-platform app, EdrawMind may be used on a wide range of gadgets. The programme is available for download on Windows, Mac OS X, and Linux desktops and mobile devices. Those who would rather create their charts in a web-based environment may use the web-based version.
Also gives its users access to Dropbox and other cloud storage services, and it has a free tier. You have the option of either storing data in your account or downloading it to your computer. The programme allows you to choose from seven different file types to see the paper, and it downloads as a Word document so you can make changes.
Overall, EdrawMind is compatible with the most widely used file types used in the field of project management.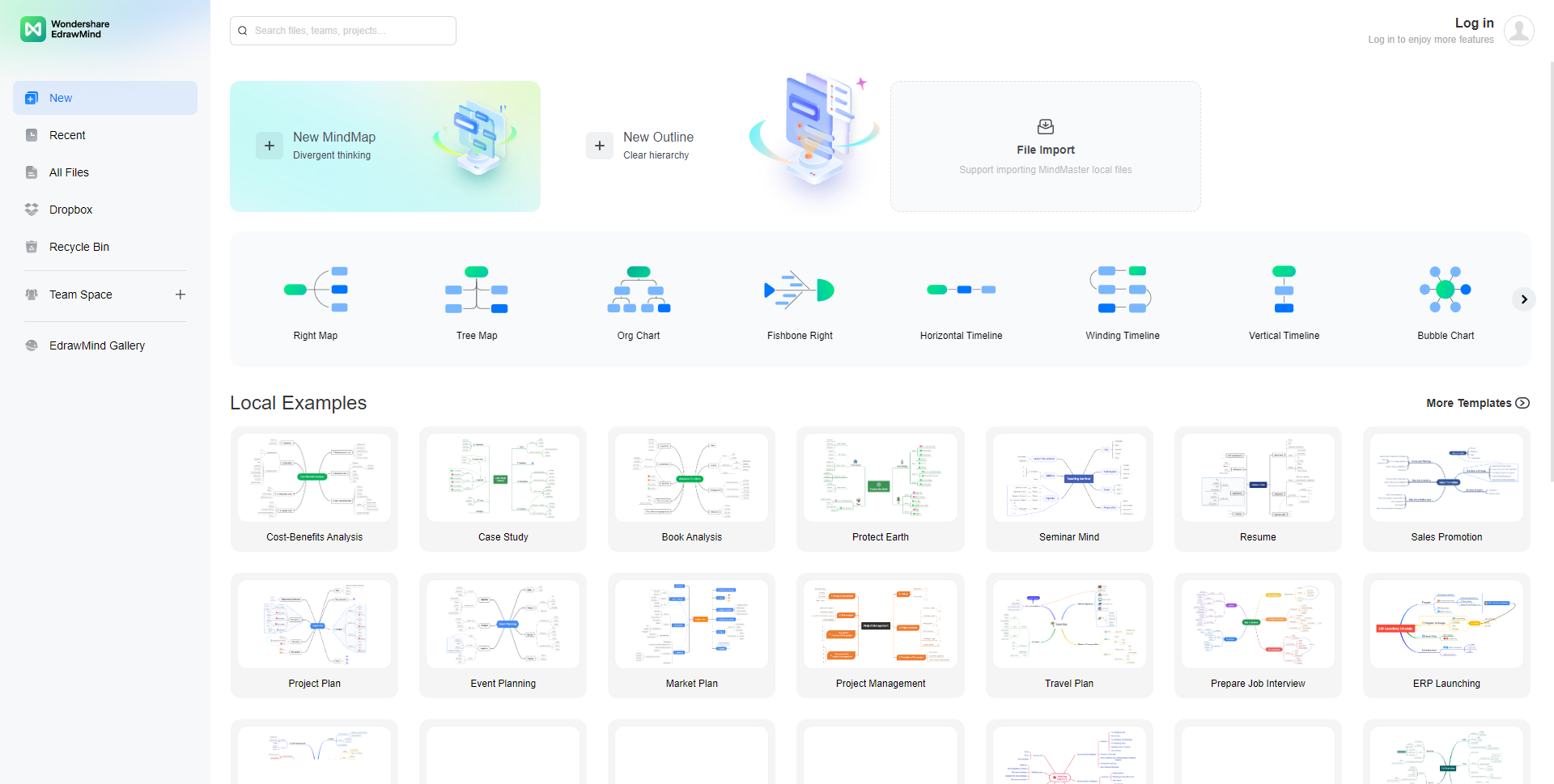 Pricing
The cost of using EdrawMind changes based on the user's or company's size. You'd be limited to a yearly fee of $50 if you work in the academic field. The cost to businesses rises as the number of people who need access to it grows.
The typical annual cost of a package for one user is between $50 and $80.
Take a product tour or join up for a free trial of EdrawMind to learn more before making a purchase decision.
Conclusion
Extreme effort is required to maintain a project. There will always be times when you feel overwhelmed, even with a staff to help you out.
Productivity boosters include software like EdrawMind. They are time savers that don't need you to be a computer whiz to use. You may learn more about it by giving it a try yourself. Have fun!
Follow Techrado for more!