What do you want to download? An unreleased song, a classic movie, or an inspiring speech from Bill Gates, Warren Buffett, or someone moving you forward? If you are allowed to download such things, how fast you expect the download process, and how much you hope one video or music occupies? Then what online download websites or free software you are using and is it versatile or competent enough to meet your increasing needs for video and music download? If not, it is time for you to give up it and try the most powerful downloader newly updated – DVDFab Downloader.
With more and more platforms open to the public, DVDFab Downloader has successfully recruited them to the supporting download websites up to more than 1000. Then, no matter where your source video is from, just locate it with its URL or use the built-in browsers of this free music downloader. Considering your downloaded files may take up too much of your limited space in mobile devices, multiple kinds of video resolution or audio resolution are also offered to help you save your memory. Now, just follow me to further learn how to use it to download any file of any format.
Download and Install DVDFab Downloader
This free music and video downloader can not just be installed to your PC, but also is available on your smartphone. Wherever you install DVDFab Downloader, the best YouTube converter MP4, you will gain a pleasant video watching and music listening experience.
How to Download Music/ Videos
To download music or videos, you are expected to locate and keep them playing in DVDFab Downloader first. Then this free video downloader will give you some instructions, such as choosing Audio Only or Video Mode, as well as choosing preferred audio or video resolution. Let me give you a simple demonstration.
• Choose Audio Only/Video Mode
Take a YouTube video as an example. Click the "Download" button and choose "Audio Only" or "Video" based on your need. For videos from other websites, there is only the "Download" button left.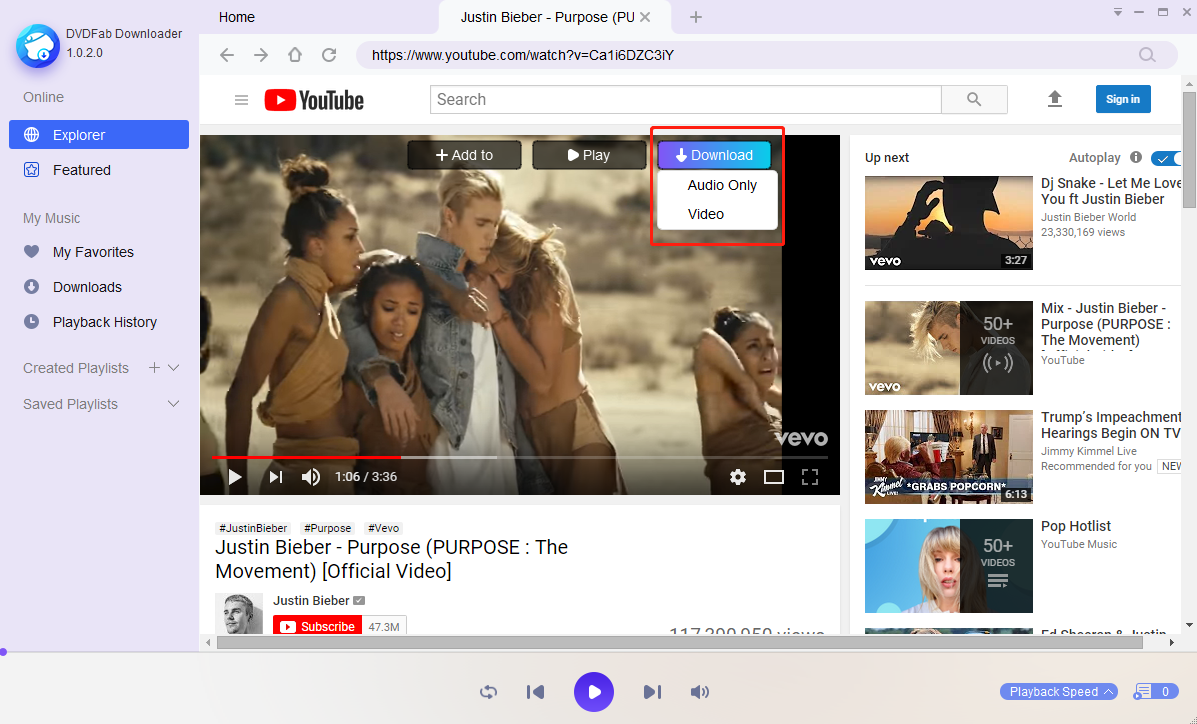 • Choose Audio/Video Resolution
After you choose "Audio Only" in the last step, three types of audio resolution will show up, encompassing Standard Quality – 128 kbp2, High Qualit -192 kbps, and 320 kbps. If you choose "Video" to download, 144p, 240p, 360p, 480p, 720p and 1080p are for your choice. These video resolutions vary with different videos. The lower resolution you select, the less space the downloaded file will take up.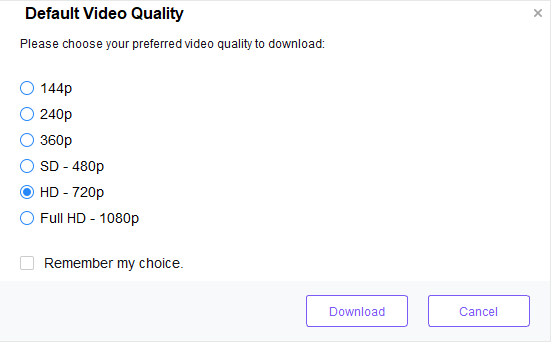 How to Accelerate Download Speed
When your music or video is being downloaded, click "Downloads" in the left navigational column and find the option of "Downloading" on a new panel, where the Turbo-Speed download button is located. When DVDFab Download finishes downloading your file, you can click "Music" o "Video" on the same panel to play your file.
Conclusion
The above-mentioned features are only part of the functions of this free music and video downloader. DVDFab Downloader also supports multi-task download, metadata download, and playlist download. For more information on this YouTube Converter MP4, please read "The Best YouTube Converter MP4 – Download HD Videos".