A lot of people access the YouTube website or app to listen to their favorite songs (apart from watching videos). From time to time we just wish to download a YouTube video in MP3 for free so that we can listen to it offline. Thankfully, you can do it by using an ideal YouTube video downloader and converter.
Snappea: the only Online Video Downloader you need
Snappea is an extremely user-friendly solution that can download videos to MP3 or MP4 formats on your computer or smartphone just on the website.
· You can just head to its website and access its free-to-all tool to download YouTube video for free.
· All you need to do is to copy a YouTube video URL and load it on the web tool of Snappea.
· You can also just search for the video you want in snappea, it will show you the videos of YouTube too.
· It can download YouTube videos in high as well as optimized quality, letting you pick your preferred option.
· You can access this online downloader in any browser or platform without compatibility issues.
· There are no restrictions or limitations on the number of downloads or the length of the content that you can save using Snappea.
How to download and convert videos from YouTube for free with Snappea
Now you have already known the main features of Snappea, let's go on and learn how to use this online video downloader in detail.
Step 1: Select the YouTube video's URL
Firstly, you can go to the official website of YouTube or browse its app to look for any videos to download. Now, you can copy its URL from the address bar or tap on the share icon on the app to get its URL.
Step 2: Load the YouTube URL on Snappea
Once the URL is copied to the clipboard, you can go to Snappea's website, and simply paste it on the search bar. You can now press the Enter key to load the video on Snappea's online tool. After pressing the download button, you can choose to download it as MP3 or MP4. That`s all! Just wait for a while and the task will be done.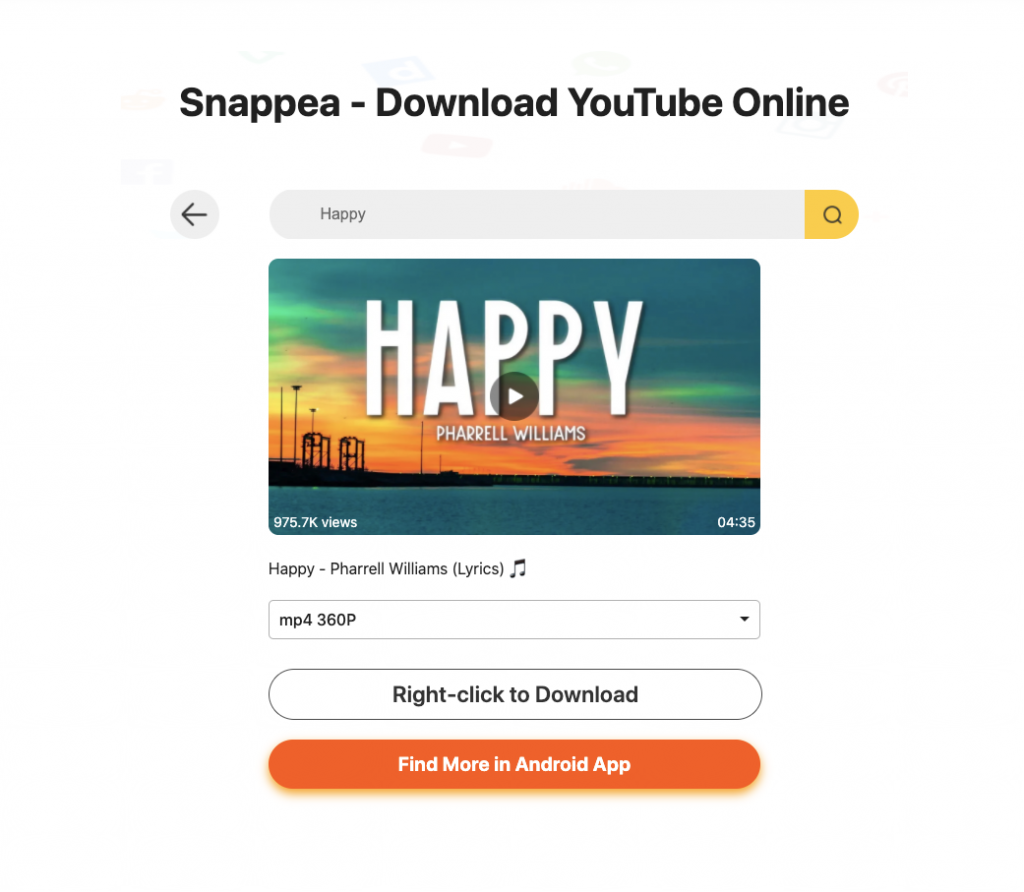 Step 3: Convert the videos from YouTube for free
Once Snappea will load the video, it will list the supported formats and quality in which you can download the videos. From here, select MP3 and wait for a while and it will save the videos on the local storage.
There you go! Now when you know how to download and convert videos from YouTube for free, you can easily save your favorite tracks on your phone or computer. Using Snappea, you can download content from multiple sources via URL in either MP4 or MP3 format.