While both of these practices are interlinked, service providers allow their customers the flexibility to choose what they need.
Getting your brand mentions on high-authority blogs within your industry can significantly improve the results for your marketing efforts. And when you consider taking your brand to the next level, guest posting services and blogger outreach service can be the perfect solution for you.
One of the most sought after content marketing tactics, guest posting is used to gain website traffic, increase brand exposure, and improve ranking in SERPs. Blogger outreach, on the other hand, is all about identifying and reaching out to high-quality websites to guest post so that you can get endorsed by the leaders in the domain and connect with their audience base as well.
Usually, guest posting and blogger outreach services are provided in conjunction, but you can opt for both of them individually as well. Apparently, both the services are inclined towards securing high-quality editorial backlinks for your business website.
How do these services benefit you?
Guest Posting can help increase your brand exposure in front of the right audience, and bring in conversion-oriented traffic through unidirectional links. However, to be able to fetch these links, you need to outreach blogs that accept guest posts in the first place. This is where you need blogger outreach as a service.
Blogger outreach helps make connections with influencers and authoritative blogs across your industry. This is vital because even a single mention on their blog can bring a significant improvement in your website's SEO.
Some of the benefits that this strategy offers are listed below:
It helps improve organic and referral traffic
It helps you grow as a brand
The traffic you receive is qualified, which makes it more likely to convert
More leads help you generate more revenue and grow your business
So now that you understand what blogger outreach and guest posting services exactly are and how they can benefit you, it's time you know where to look for these services.
Here are the top 10 services you should consider for guest posting and blogger outreach.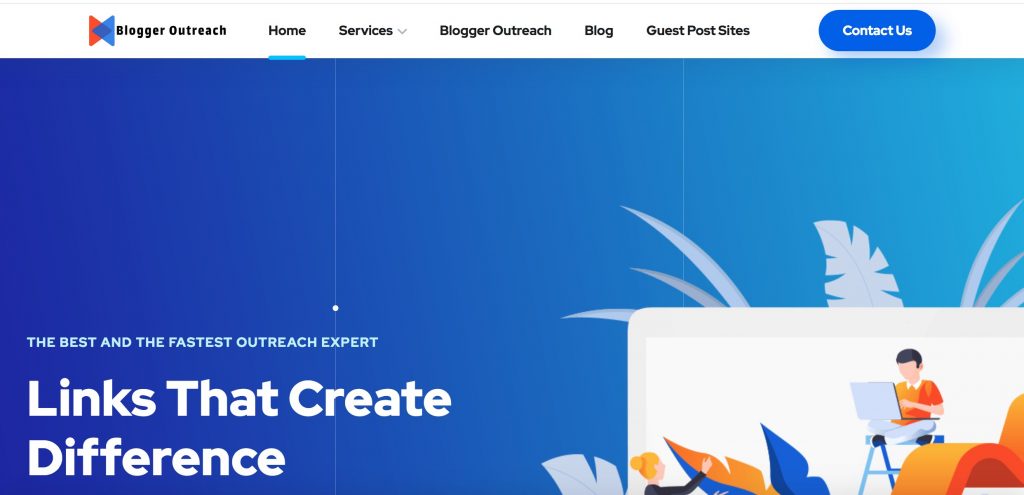 Voted as one of the most reliable and trustworthy link building services providers, Outreach Monks has emerged as a true leader. They have been around for only a few years but have achieved tremendous feats during this short time span. With thousands of links built for their happy customers since they introduced their services, they are certainly the best blogger outreach and guest posting service out there. And the best part is that they do it by involving their customers in the process. Yes, they let you choose what content you wish to be guest posted and also the blog you wish it to be published on.
With their highly experienced and trained PR experts and native content writers, they promise to deliver high-quality link building campaigns that really work. Recognized as the most affordable and trusted white label link building company by the clients, Outreach Monks leverages innovative approach and mindset to help you grow your business.
Founded a decade ago, Submit Core commands a well-deserved reputation for highly competitive keyword research and authoritative backlink generation. As their customers say, "They are the best at delivering stellar results", they can certainly be called the best blogger outreach and guest posting agency. Additionally, they let their customers decide what sites and blogs they wish to be featured on.
With their services extending from industry-specific SEO programs to local and small business SEO, they have a diverse client pool. Additionally, more than 250 recurring satisfied clients and a database of thousands of influencers make them stand apart. Also, they assure nothing less than a 5-star rated service for the clients. Submit Core delivers totally niche relevant, do-follow and indexable links that are manually hand-picked and loved by hundreds of bloggers and businesses. All this at truly affordable prices!
With customer reviews supporting an above-average rating for The Hoth, they certainly stand a strong chance to be third best on this list. They have been in the industry for over a decade now and offer discounts to wholesalers along with a promise to grow your traffic with ethical practices,
They undertake all the tasks involved in guest posting and blogger outreach, right from reaching out bloggers to getting the content published and securing backlinks for you. Although their packages are highly-priced, they also offer custom packages for the ones who seek selective services.
This is in fact, the odd one out on this list. Blogger Local provides guest posting and blogging services but does not offer blogger outreach. But since it offers guest posting to almost every blogger who manages a reputation online, you can easily connect with other bloggers with their service.
Their guest posting services are stellar as they are already into various markets and have earned high command within the blogging community. If you are not looking for blogger outreach but only guest posting on authoritative blogs, then Blogger Local can certainly be a good choice. All you need to handle yourself is outreaching other bloggers within their community.
Voted as the editor's choice by Blogger Local itself, OutreachMama is trusted by numerous businesses and digital marketers. They stand apart from their competitors in terms of letting their clients work on their strategies and planning. The team actually aspires to educate its customers by providing them a complete anchor text roadmap to understand how it works.
While they do offer excellent services and maintain high standards in their work, they charge heftily for the same. If budget is not a concern for you and all you need is niche relevancy and great results, then Outreach Mama should certainly be on your mind.
Fat Joe, founded in 2012, is considered as one of the fastest-growing content marketing agencies. The company has worked with over a thousand agencies in as many as 12 different countries. They claim to build over 5000 links every month through guest posting only, which is a huge achievement, considering the effort and time it requires.
When it comes to quality, they certainly excel on the front. But they have earned a bad name recently in terms of customer support. Nevertheless, they do promise a quick turnaround for your investment and also ensure that your grievances are addressed rapidly. The company is proud of surpassing customer support and is acclaimed for answering 90% of all the grievances received within just a few hours.
If you are looking for real branding and publicity for your business, Linkredible's blogger outreach and guest posting services are renowned for driving results in real-time. All that you need to do is to submit a list of keywords and URLs you wish to target, and you can just sit back and relax. They carry out the whole process in-house and you can easily track it all down by downloading your reports in .pdf or .doc formats.
Furthermore, they dedicate a personalized campaign manager for each project, which is common with other toppers in the list as well. The best part of working with them is you can track all the reports in real-time. However, they lack somewhat in terms of the affordability they offer through their packages.
Follow Techrado for more Tech News.