When searching for the right type of web hosting plan for your business, there are two main server options – Linux and Windows hosting. In case you have no knowledge about what they are and the difference between them, you might take a wrong decision and put yourself in trouble as it will affect your website's performance.
In order to assist you in taking the correct decision for your business, here is a guide on Windows hosting comprising of its definition, who's it for and things to checkout for in a Windows hosting provider.
What Is Windows Hosting?
The type of website hosting that uses a Windows operating system is called as Windows hosting. Most commonly web hosting plans operate on Linux, generally you can assume that if a web hosting company doesn't specify a plan is Windows hosting, it's Linux hosting.
But for some of the website owners, Windows server unlimited hosting is the better choice and it is important to select a plan offering particular features that come with it.
Who is Windows Hosting for?
The start-up or new businesses that want to go online pick up shared hosting plan and select Linux server because it is affordable and reliable too. Windows hosting is specially suitable for businesses such as enterprises or other big businesses that are in the online world since some time – that have built their website and other systems on Windows programs.
In case maximum businesses' tech depends on Windows, then Windows server hosting is what they should opt for. This hosting will work smoothly with all other programs that you use and you won't need to rebuild or work on anything right from the start. Additionally the tech professionals that your company depends on for maintaining the smooth working of all your systems will have the knowledge of working with the Windows hosting OS.
It just means that if Windows hosting is the perfect choice for your company, your IT team will have strong knowledge about it. Ensure you take their input while selecting the type of web hosting.
Things to Look Out for in a Windows Hosting Provider
In case you have decided to select Windows server hosting for your website, you need to find out the right web hosting provider as per your requirements. While searching for Windows web hosting providers, check if they offer the few good features mentioned below:
Software Compatibility
Proper compatibility should be offered by any Windows hosting plan that is required for all your Windows-based programs and software, including:
ASP Classic
ASP.NET
MSSQL (Microsoft SQL Server)
MS Access (Microsoft Access)
Visual Basic Development
C#
Remote Desktop
Microsoft Exchange
Microsoft SharePoint
In case your business depends on any of the above software and scripts, you should check that Windows web host you select should offer the features that work seamlessly with them.
Moreover, if you use any CMS such as WordPress, check if the web hosting plan is compatible with it too. In case you add website tools such as AWstats and Google Analytics, or eCommerce software such as WooCommerce or Magento for an online store, ensure to check them too.
Many times, web hosting companies will advertise compatibility with common software solutions on the website. In case you don't find the information displayed on their site, you can contact the sales team for more information.
Stability
Windows hosting is less stable than Linux. But if you select the right web hosting provider, it will help you to keep up your website performance by offering stability similar to Linux. Additionally, you should check for the uptime offered by the web host and it must be at least 99.9%. With the company guarantees that your website will be always be up and accessible to your visitors.
Some web hosts such as MilesWeb offer 99.95% uptime which is more than expected. Additionally, they also offer 30 day money back guarantee, this indicates how serious they are. Though Windows servers aren't as reliable as Linux, the right company understand how to take good care of them and fulfil the gap.
Security
Website security is a must for every website. Websites are at high risks today. Windows hosting might be highly vulnerable as compared to Linux hosting but by selecting a reputable provider that offer strong security featured, much of the risk can be avoided. Check for the company that offers SSL certificates and uses firewalls to secure their servers.
Also, determine if they offer additional security features so that you can tighten the security of your website.
Reputation
Review the different plans from different web hosting companies and the commitments made by them as a part of making an informed decision. Additionally, check for their brand awareness in the industry. Also, check their review on the third-party review sites to obtain an unbiased view of the company's reputation and check if they fulfil your requirements.
Customer Service
Though you might have a complete team of Windows experts, you would require customer service helps from your web host. Confirm if the customer service team is available 24/7 and you can reach them with all the sources such as live, email, ticket system, phone, etc. Ensure that the team responds quickly and resolves the problem with right solution.
The customer support team of MilesWeb offers excellent support and this can be seen from the customer reviews they receive:

Selecting the Best Windows Hosting Plan for You
In case, Windows hosting is the perfect choice for your company ensure that you find the particular Windows hosting plan and provider that provides you everything required.
MilesWeb's Windows unlimited hosting solutions offer all the features covered here, and you can choose from their 3 plans accordingly as below: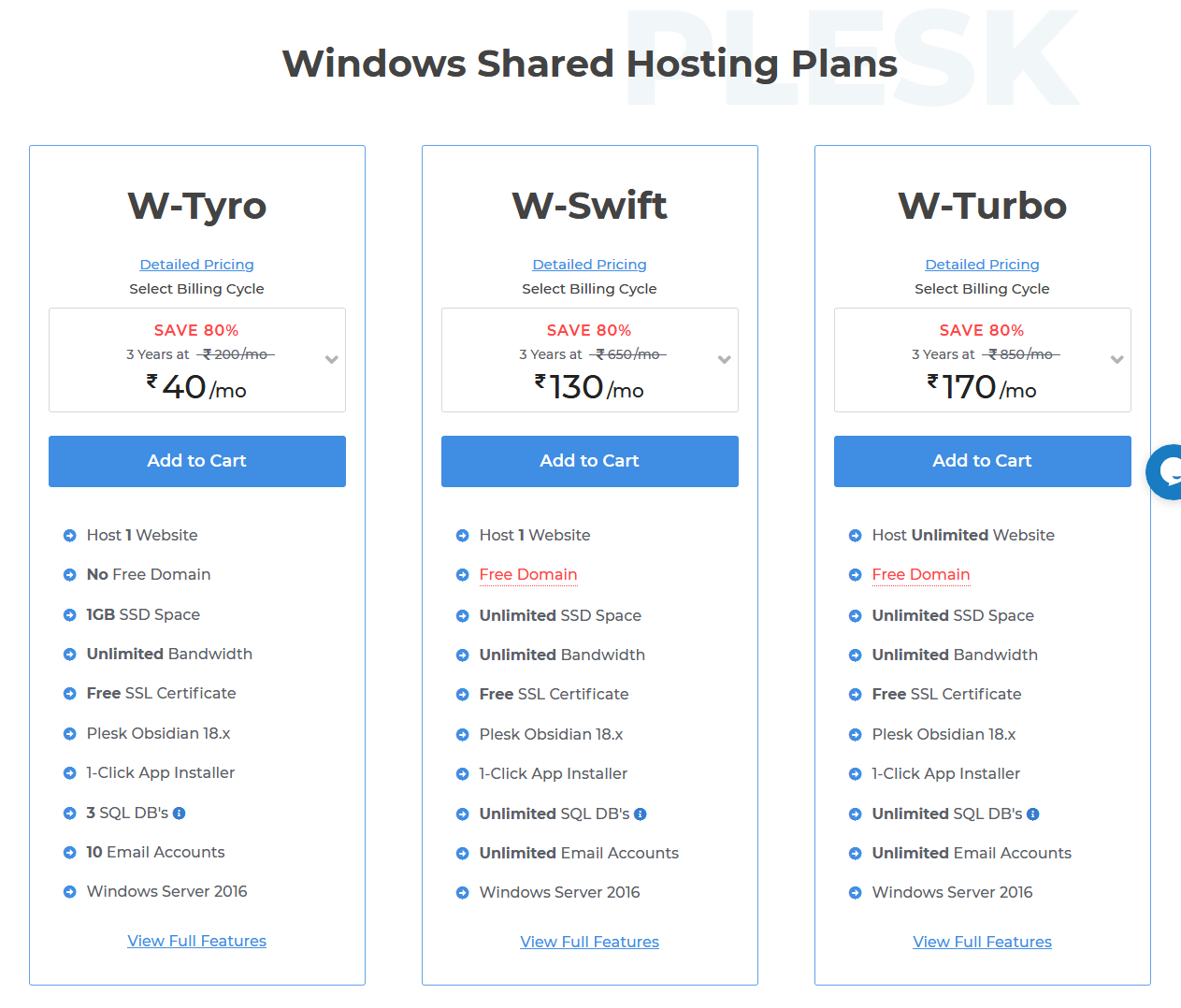 Features
Free Domain Registration
Free Website Migration
SSD Drive
Plesk Control Panel
1-Click Installer
Secure Email
Programming and Database
Instant Account Setup
Bottom Line
While looking for a web hosting provider for Windows hosting it is important to check all the features mentioned in this article. MilesWeb offers you all these features at affordable prices and excellent support so there is no need to go anywhere else.
Happy Hosting!