You got your logo, a website, and a great product to introduce to the world.
Why isn't your SaaS business getting the value it deserves?
Well, maybe not a lot of people know about your product yet.
Brand marketing is more than just creating a logo, setting up a website, and launching a cool tool.
There are more than 15,500 SaaS companies in the online space (Crunchbase, 2020). So whatever your niche is, you can expect tough competition. Your product is great but if it is drowning in a sea of competitors, then you can't really expect to get any ROI from it. Only proper brand identity agency marketing can let you float for all the world to see.
The problem is, brand marketing can get really expensive, especially if you are paying for people and marketing collateral production.
But is it possible to boost your branding efforts without breaking the bank?
Of course!
For your SaaS brand marketing, you need SaaS tools too!
What are the benefits of using tools to automate your brand marketing workflow? They cut costs and save you time. If one tool can do it all, why spend much more?
And no, this is not just another ploy to get you to sign up for products. Right now, if you want to get ahead of the competition, you have to streamline your work process so that you can concentrate on your top priorities.
So if you want to make your marketing life easier, here are 12 tools that can help you get things done faster without spending big bucks.
Easy icon generator
Get pixel-perfect icons, every time.
Icons are an important element of design so if you don't want to have a hard time coming up with icon sets, you can create your own with Icons8 Mega Creator. The Mega Creator lets you choose from 38 styles. Everything is made by Icon8's in-house designers and if you are getting the free plan, you have to link back to the site to use a design. Get the $13 monthly subscription and waive the link back, plus get 100 downloads a month.
And if you want to spice up the icon-making game, try their animated icons. Right now, Mega Creator has 900+ moving icons that you can check out and modify to tailor-fit your business needs. Whatever your style, still or animated, you deserve clean and consistent graphics.
Reserve your spot in the cloud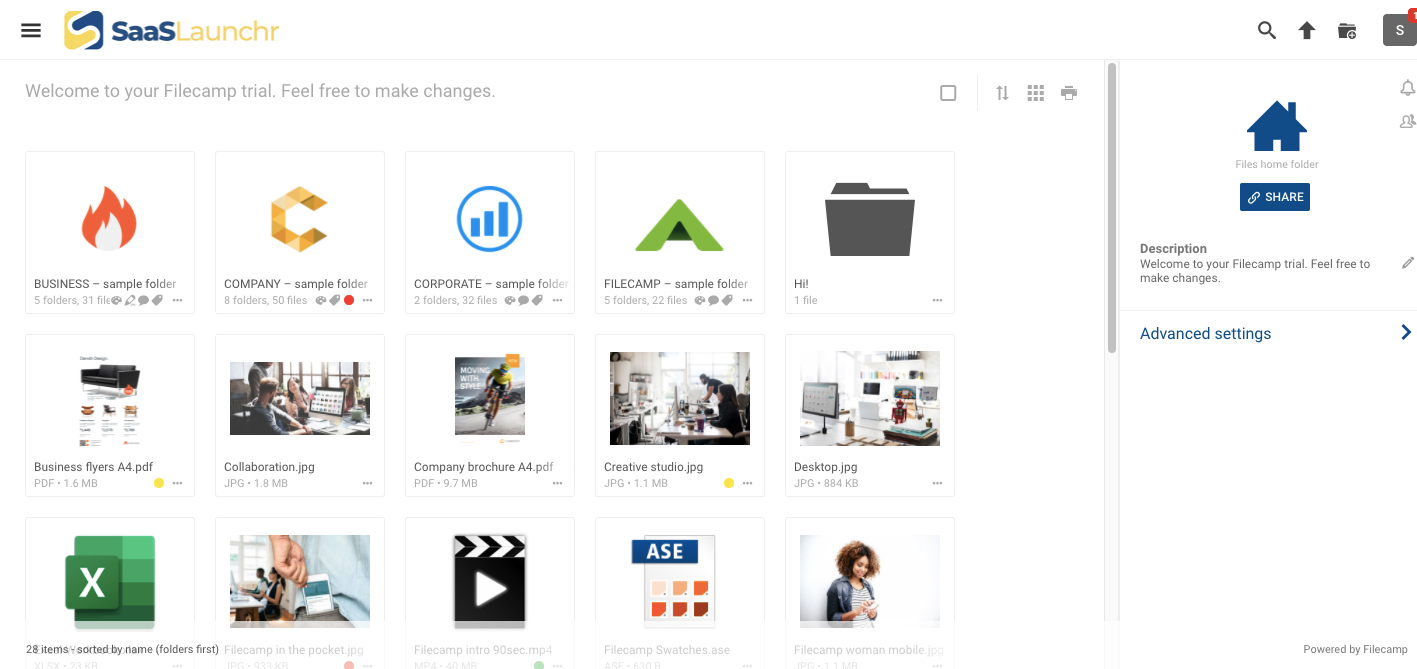 If you are a large marketing team and you often collaborate with a lot of other parties, it is easy to get some files lost. It's okay if the lost file is something that can easily be reuploaded or redone. But if it is something vital to your campaign, this might compromise your marketing operation.
With Filecamp, you're assured this won't happen. All your digital assets are labelled and stored where everyone in your team can easily access them. The bigger the number of files to be organized, the better it is to have Filecamp. Collaborate with your team through its file sharing and commenting features. The multiple themes can also give a customized touch to your Filecamp account. When it comes to organizing your files, this tool uses AI technology to make sure that everything is properly labelled and you can find each file as needed. The user management system also allows you to set who gets to access specific folders.
All plans have unlimited user access and free bandwidth. The basic one costs $29/month but if you are a big marketing team, you can always go for the Advanced or Professional plan for more features.
Set-up software without coding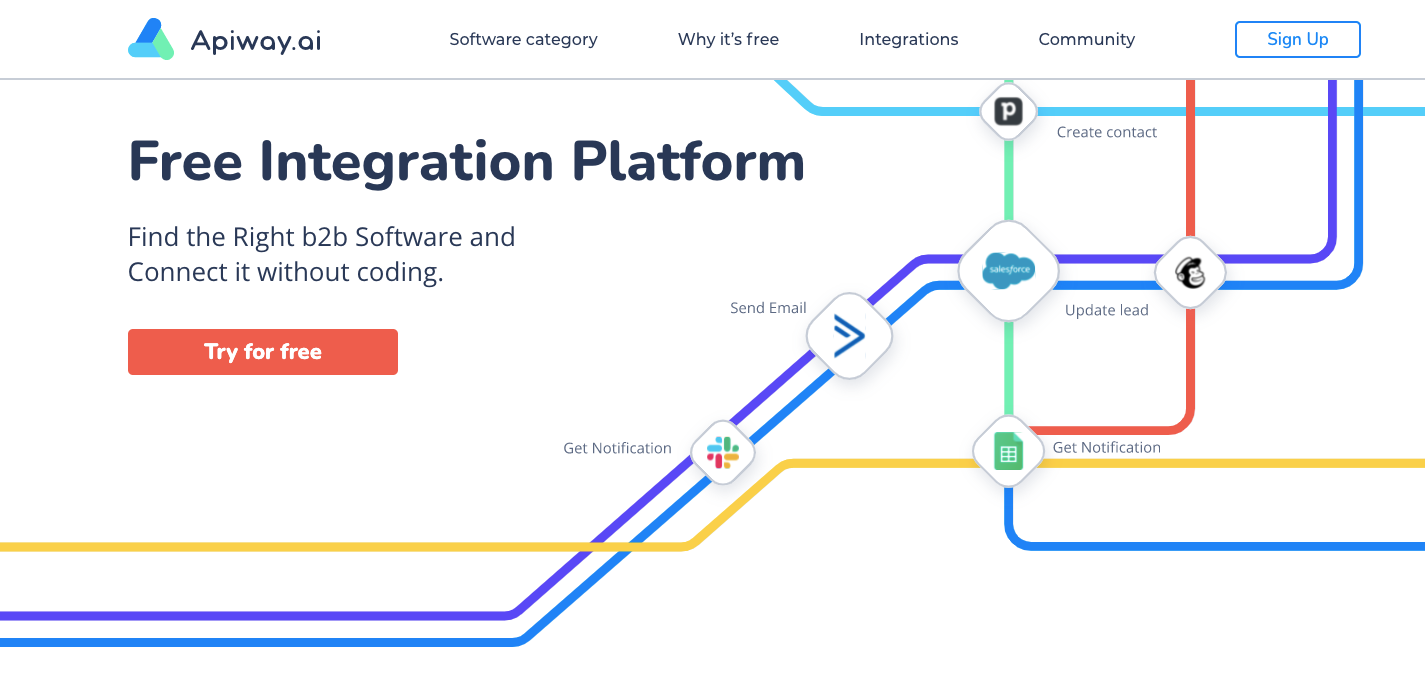 You've done your research and found the right tools but can't add them to your website or connect them with other apps because – alas – you don't know how to code!
Even the most seasoned marketer can have Waterloos too, and sometimes, it's coding. If you want to integrate b2b software without typing codes, Apiway can save your day. It's a free integration platform that allows you to streamline your workflow. Yep, you read it right. It's completely free.
Choose from more than 50 b2b software that can automate your marketing workflow, e-mail process, or CRM. Plus, more software vendors are coming so you can expect more options. Can't find your app? Contact the team and they can develop an integration for you!
Your brand design in one click
With the fast pace of popular culture, brands must be quick to recognize trends or be left on the sidelines.
Baseline recognizes that marketers need a tool to automate content creation. That is why it has come up with an all-in-one design system that SaaS marketers will love. If you are in a rush, you can create a fully designed Instagram post in one click – you only have to edit the text details.
The free account comes with all valuable features like access to all templates, stock photos, vector files, an AI-powered background removal tool, and a brand guide. It is only limited to one brand and one download per month though. If you are handling multiple brands, get the Professional plan for $25/month or go all-in with the business plan at $99/month.
A powerful background removal tool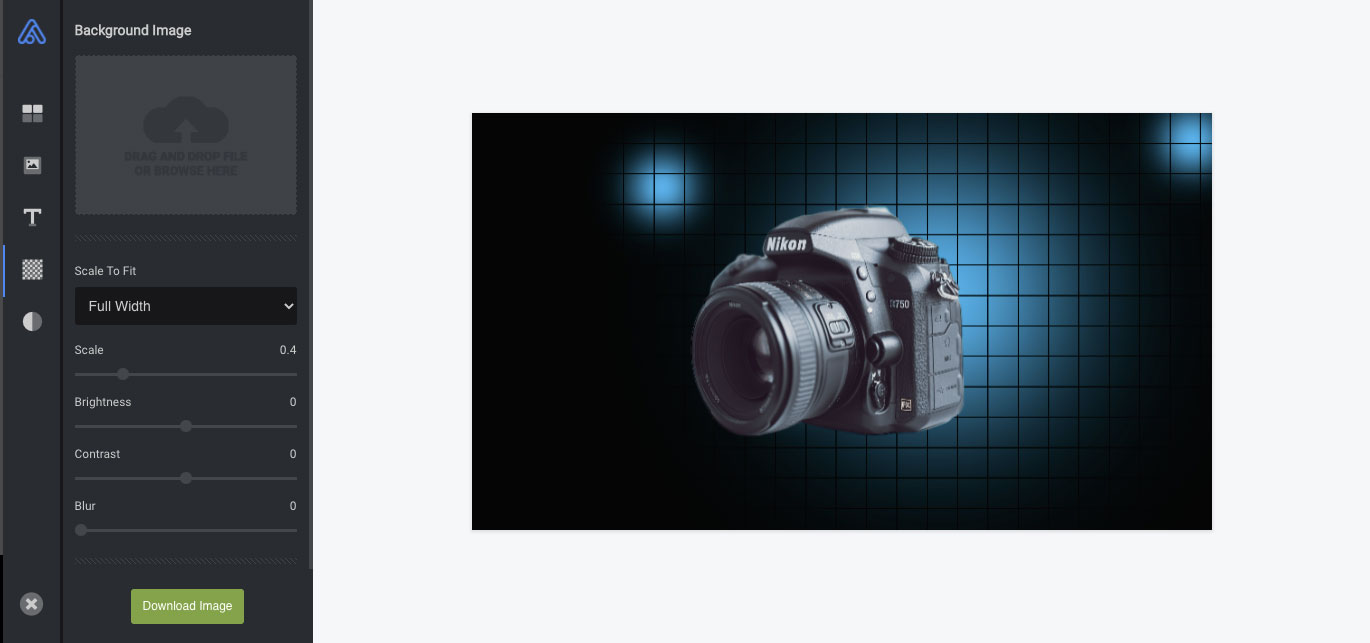 The e-commerce industry is one of the fastest-growing on the world wide web. And if you are looking for a reliable tool that can help you improve your shop product displays, Removal.ai will save the day.
This powerful background remover is equipped with top-of-the-line AI technologies that allow you to remove image background in no time at all. It automatically detects objects and offers a smooth cutout that can even finely clean hair or fur edges.
Generate image variations on the fly.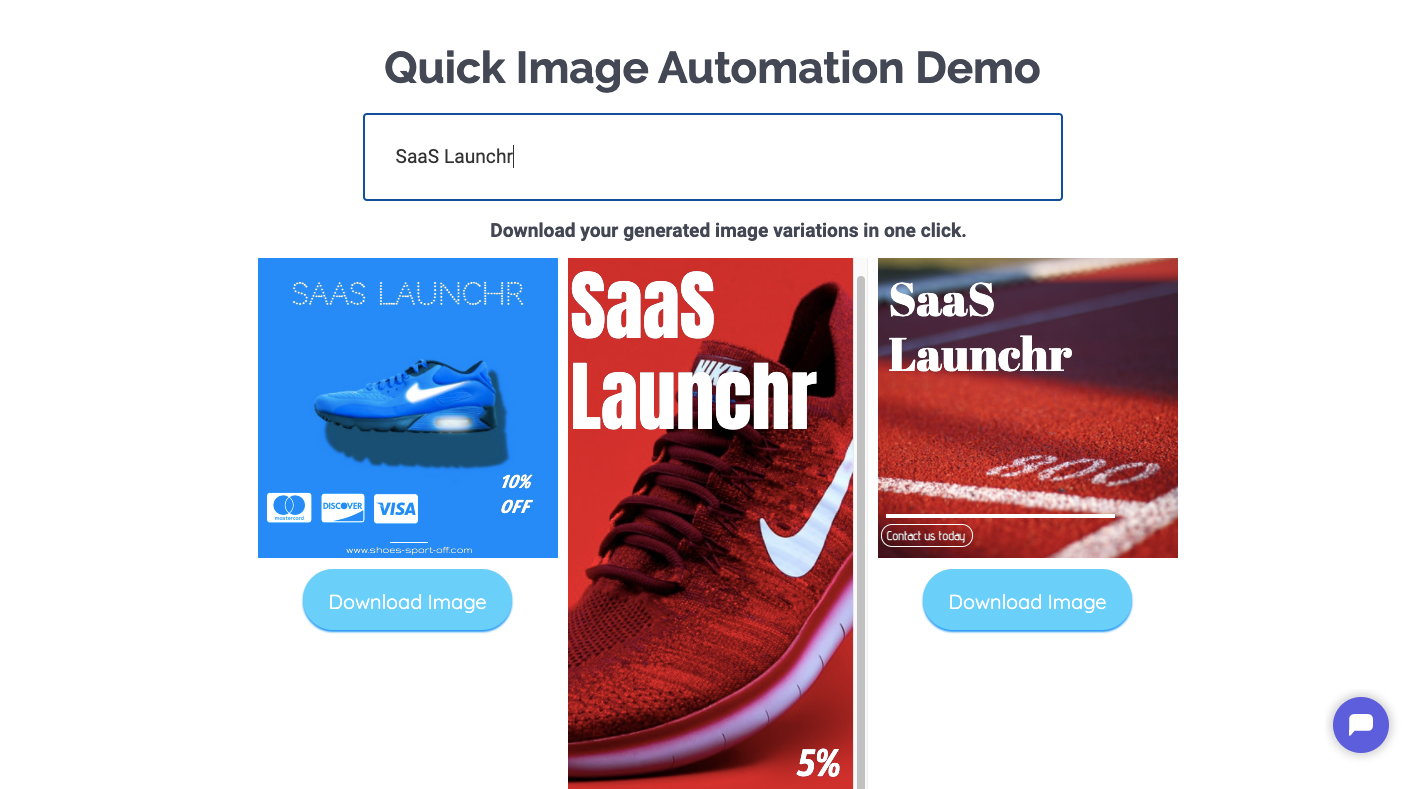 Wouldn't it be easier if you can just find a tool that can automate your routine tasks?
If you are a SaaS marketer that's swamped with making graphics every day for your social media pages, Pixelixe will make your life easier.
There are a lot of online image editors right now, but only a few offer image automation services. Pixelixe can generate unlimited variations of your graphic as an end-to-end solution to your marketing visuals production. You can also add images and texts in a spreadsheet and convert spreadsheets into graphics on the fly. Its graphic and image editor can be integrated into any website or web application and you can customize the editor's logo, colors, and features so that it will look more like your brand.
Want a more advanced feature? If you are a developer, you will enjoy the image processing and editing API side of Pixelixe. Enjoy a 10-day trial to check it out! No credit card is required.
An online logo maker and more.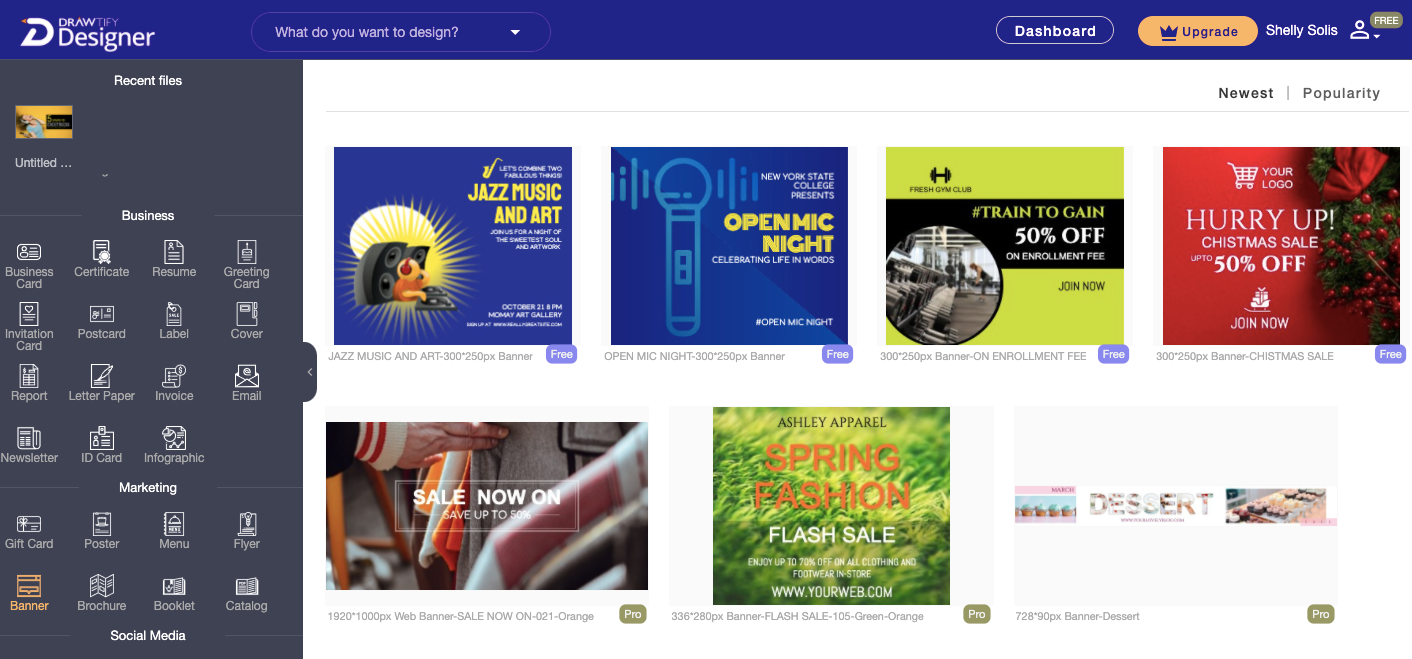 If you want to use vectors in your marketing collateral designs, especially your logo, you have to try Drawtify.
Drawtify is an online graphic design tool that can help you create vector logos and other graphics. With its repository of 20000+ icons and shapes, you can create a simple brand logo even if you are not a professional designer. If you do not have any logo design to start with, it can recommend high-quality templates that you can tweak to suit your ideas. It can also let you animate your logos – perfect for video introductions and other social media marketing purposes.
The best news? Its logo maker and graphics editor is free. But you can always shift to a premium subscription if you want more high-quality templates, watermark removal, export to other file types, and larger image storage size. Its most popular subscription plan costs only $8.33 per month!
Say goodbye to repetitive typing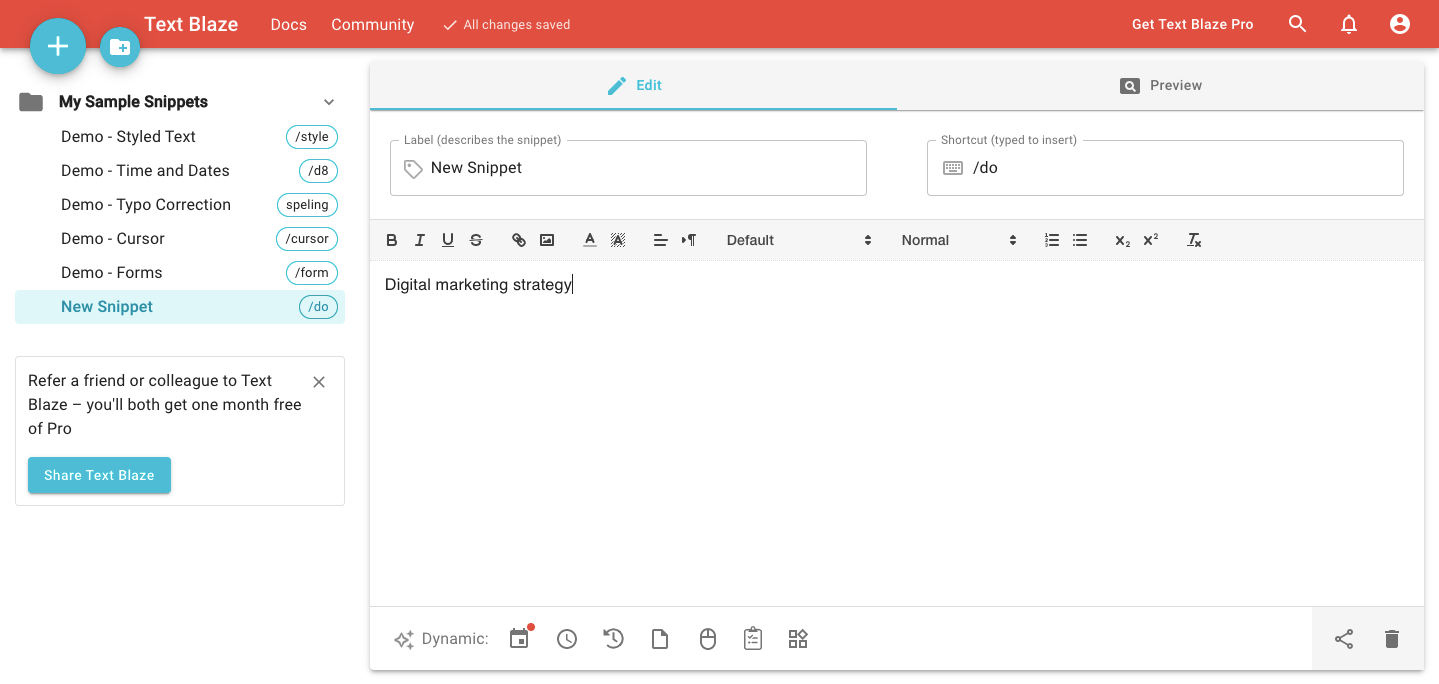 If you want to automate your replies to chats or e-mails, here's the tool you are looking for.
Text Blaze is a nifty Chrome extension that allows you to assign shortcuts to repetitive sentences or phrases that you usually use. Simple save a snippet of text (ex. Thank you for using our tool today!) in Text Blaze and then type in your shortcut starting with the backslash sign (ex. /ty1). Use this tool and increase your productivity 11x by just getting rid of those repetitive things that you type.
The best part is that you can have a shared snippet folder with your whole marketing team so if your members are using Chrome, you can be assured that all your replies are consistent since everyone is using the same set of text templates.
Add it to Chrome today, for free!
A full-suite graphics editor.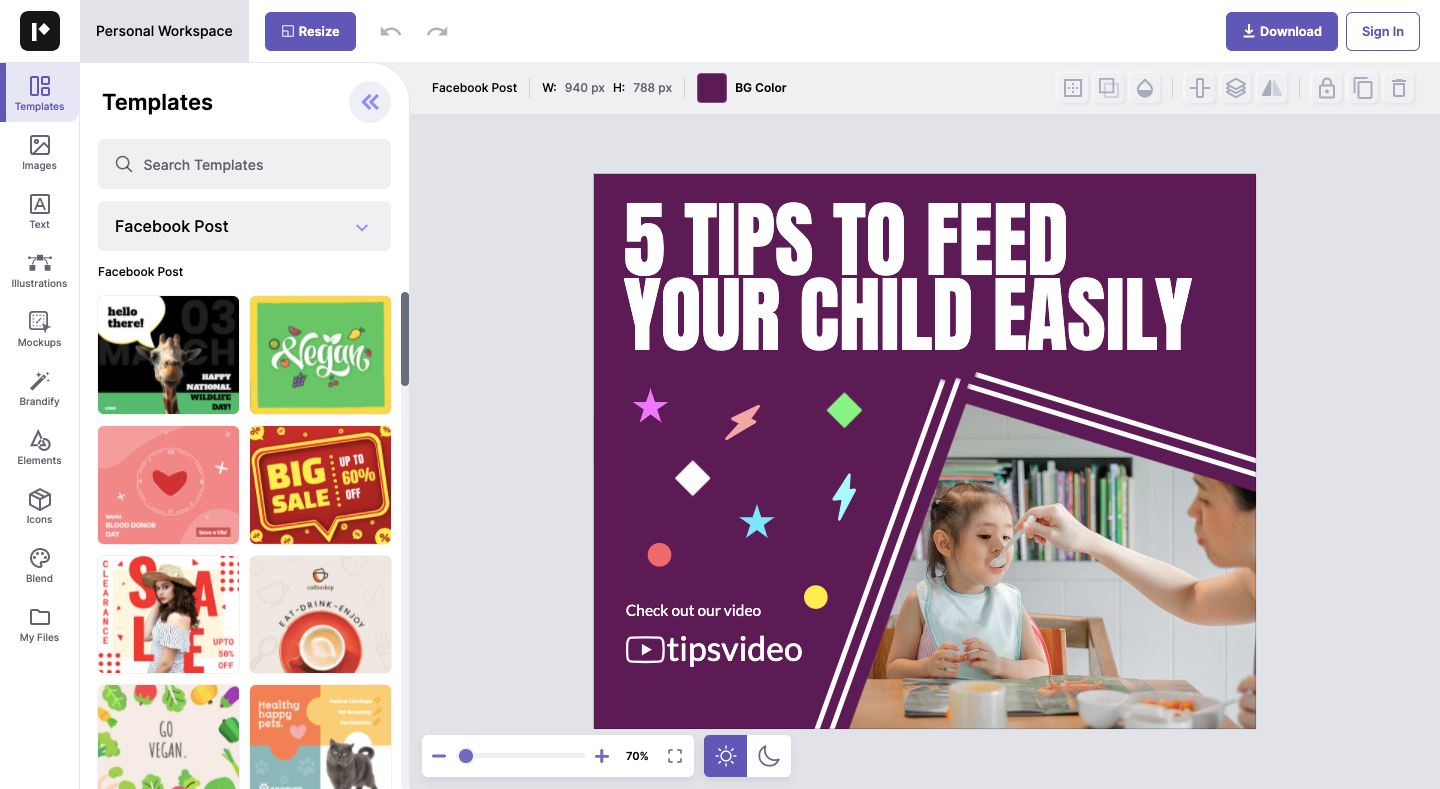 Stumped for ideas on your next social media post?
Don't fret if your creative juices stop flowing, Pixelied got you covered. You won't run out of ideas with thousands of ready-made templates as references. Just tweak it: change the font, colors, and upload your logo to give it a touch of your brand.
Quality graphics means vector graphics. One of the popular features of this tool is that it can let you upload vector files directly and edit them without suffering lags. Some online editing tools have slow loading times, but not the Pixelied interface. Its user-friendly dashboard and quick loading time will let you enjoy editing.
True to its word, it has a pretty straightforward pricing scheme. You only have two choices: Free and Pro. The Pro plan is only $9.95 a month and it throws in multiple features like the background remover, workspaces, addition of team members, brand presets, mockups, resizing, and custom font uploads. It's a great steal for brand marketers!
Your favorite online sticky note board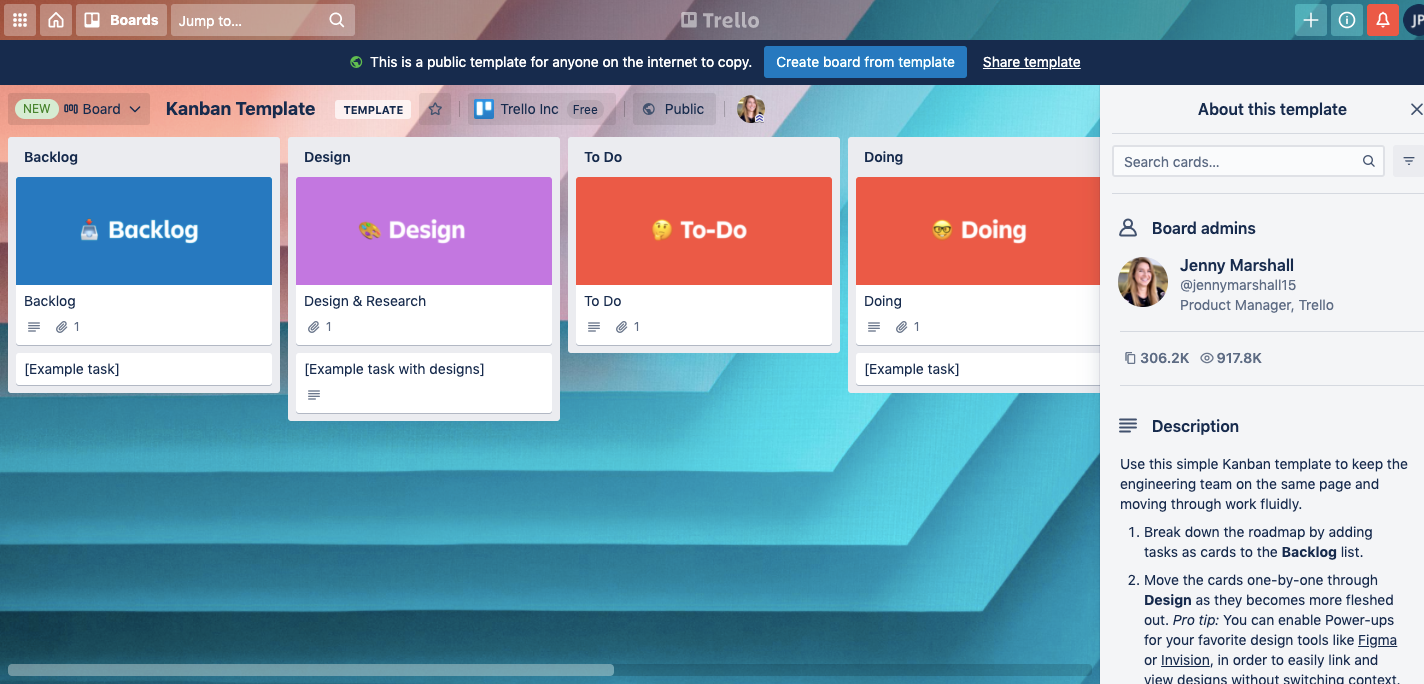 If you are a fan of collaboration through sticky notes, this tool is perfect for you!
Trello organizes each project into boards. The Trello Workspaces are a great way to check your job progress or team notes at one glance. Onboard your brand marketing team to Trello and see how easy it is to use. Plus, it can also integrate other apps, like Salesforce or Google Drive so you can view files or connect with other apps in one click. Put those to sticky note prowess to work today!
Takeaway
Set your company apart with great branding. Achieve great branding by using automation tools.
Your brand is who you are. Establishing your brand should be your utmost priority since it is what your customer base reacts with. Your brand also presents your business to your ideal customers.
By automating your brand marketing workflow, you can set your SaaS business apart and create a lasting impression on people at the top of the sales funnel. If you want to set up your brand, there are a lot of SaaS tools that can help you do it.
Try these tools for yourself today.
Author's Bio
Shelly is an experienced writer and search engine optimization specialist. She started as an online freelancer in 2011 and also formerly worked as a university teacher and a public servant. She is currently focused on SEO and marketing efforts for SaaS businesses and startups.
Read here writing pieces at the SaaSLaunchr.com blog.
Follow Techrado for more!