HTTPS (Hyper Text Transfer Protocol Secure) is the secured version of HTTP (Hyper Text Transfer Protocol). The extra "S" stands for security. I.e. it secures communication between browser and server by encryption of data using Secured Socket Layers (SSL). Research shows that more than half of one million websites visited by visitors worldwide are directed to HTTPS sites.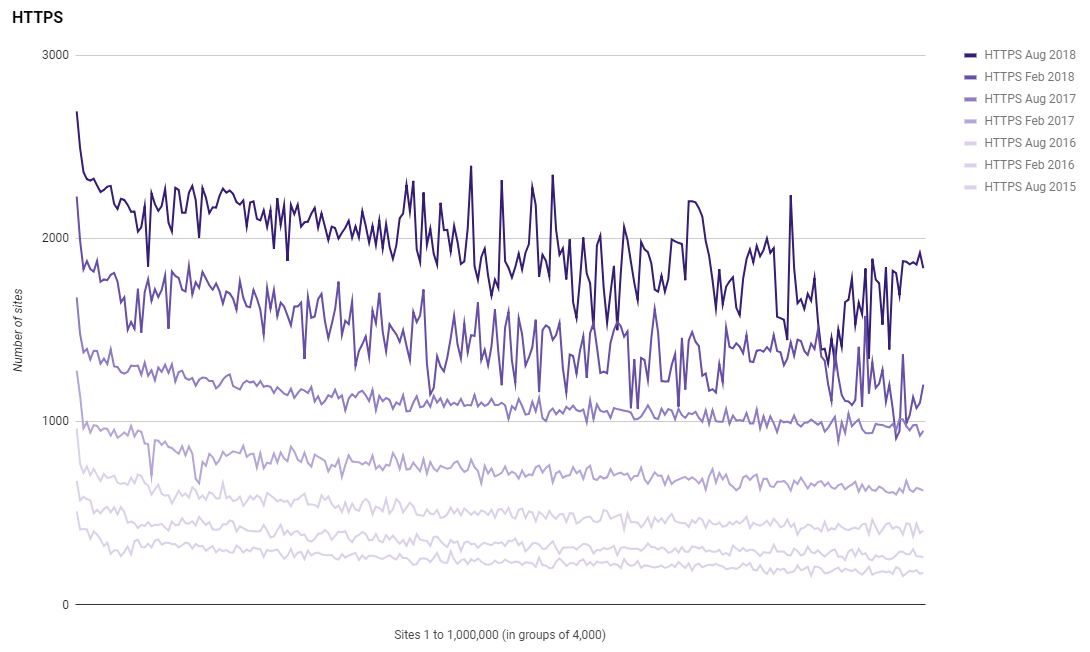 The above graph indicates a rise in HTTPS sites which is a blessing for visitors, as they surf through secured sites. 
The reason behind transformation of HTTP sites to HTTPS is due to 3 main factors:
Google announced HTTPS as a ranking signal; which indicates SSL is good for SEO. This push in turn encourages website owners to switch to HTTPS. 

Chrome browser Search Console shows "Not Secure" notification when users try to access HTTP sites for sending any information. This may increase the risk of losing network traffic and business.

Digital certificates are available at cost friendly rates.

Why HTTPS?
Any data entered in HTTP site is in simple readable format and hence can be misused easily by hackers. But, when SSL certificate is installed on a site, the website URL changes to HTTPS and a small padlock appears.  
SSL certificate encrypts data to secure all the information transmitted between browsers and servers, changing it into a non-readable format. In brief, Google favours secured sites and hence SSL certificates are a must for website security. 
HTTPS site secures user data through 3 traits.
Encryption security (256-bit encryption and 2048-bit CSR encryption) to make data non-readable

Data integrity to prevent files from being corrupted

Authentication of website to increase user trust
Search Engine Optimisation (SEO) is a process of increasing your site visibility in web search engines by improving the quality of your website design, content, images, graphics etc.
This article mainly focuses on why HTTPS plays a very important role in SEO and how they are inter-related to each other.
So, let go to the main theme of an article and below mentioned are a few facts which helps users decide the importance of SSL. 
Advantages of HTTPS on SEO:
Since 2014, Google has confirmed HTTPS as a ranking factor, keeping in mind web security as well as user data protection. Not only is Google pushing all sites to become HTTPS; it has also started issuing warning to users about unsecured HTTP sites also. 
Since Google has changed its algorithms, many advanced SEO strategies have popped up. Though HTTPS is a very small factor affecting SEO, it plays an important role in gaining user trust. 
A quick search of keyword on Google, will display more than 50% HTTPS sites in the Search Engine Result Pages (SERP), which marks the importance of SEO on this search engine giant. This encourages web masters to secure their site with SSL certificate, and stand out in the ranking race.
SEO is a way to get your business site displayed on the top of SERP. Site Ranking and Web traffic are inter-related. SSL security leads to high rankings and helps to display your site on top of web results. This automatically increases network traffic of your site, since users prefer to view these secured sites which are prioritised and selected by SEO. It leads to improvement in site-click-through rate too.
Majority of the public love to purchase online, which puts their personal information like credit card numbers, bank account numbers, passwords etc. at a risk of being compromised. 
This information can be secured with SSL certificate. When an SSL certificate is installed on website, it encrypts this personal information, to keep it secure from prying eyes. 
Visitors also show these 2 website trust indicators. They are HTTPS in address bar and a padlock in URL. These visual indicators are the foremost things a visitor checks before approaching any site.
Example: when your website has an SSL certificate let's say Comodo Positive SSL, which is a DV SSL, providing 256-bit encryption and 2048-bit Signature along with a free Comodo Static Site Seal and additional features.
SSL certificate of a reputed brand, installed on the site, helps increase user trust; because now a day, business is all about security and trust.
The more the visitors trust your site, the more they will make purchase transactions leading to high business volumes. While brand image is a major aspect which rules the conversion rate, customers do expect security of their transactions. No one wants to make transactions on an unsecured HTTP site, wherein there is a huge risk of your card or bank information being misused by fraudsters for their evil intentions. 
Since customers now have knowledge about secured sites and trust indicators, a survey as per Globalsign shows that 85% of the visitors immediately abandon purchase on HTTP sites, due to security risk. This drives prospective buyers away. 
It's never late to shift from HTTP to HTTPS, to give a secured platform to your customers; wherein they can trust you with their sensitive information. It's proven: Increase in website security leads to increase in network traffic, and increase in conversion ratio, which in turn leads to increase in business growth.
It's a myth that securing your website requires a huge budget. Shifting to HTTPS is simple and cost friendly. Different SSL certificates come at different attractive budget-friendly rates which can be afforded by small businesses too. Installation of SSL on your business site, secures your main domain and sub-domains with encryption.  In fact, starting from proper use of keywords, to page optimisation, relevant content and appropriate links, all lead to a high rise in SEO. According to Safari SEO in Southampton, having a secure website with an SSL certificate and HTTP to HTTPS redirects is a non-negotiable element of a successful SEO campaign in 2021.
Certain Certificate Authorities issue free SSL certificate to business owners. They forgo their profits to provide secured web to users. Let's Encrypt is one such free and open CA. 
Warning by Browser Labels:
After Google Chrome was launched in July 2018, Google started to label all HTTP sites as "Not Secure". Hence when a visitor visits this site, the Chrome browser displays the "Not Secure" label on the screen. 
Even the URL and address bar display proofs regarding the site, i.e. whether it's secured or not. Absence of trust symbols like padlock and HTTPS instantly creates an atmosphere of insecurity to users visiting the site. This alertness forces them to abandon the site moving to competitors. 
One of the major points which Google takes into consideration while ranking sites, is their site speed. Sites with low speed and more loading time will have lower ranks, as compared to sites with fast page load speed. 
It has been noticed that HTTPS sites are faster in loading pages than HTTP sites. Users love to surf sites having fast speed. Research states that an average of 3 seconds page load time is ideal for users. If the time taken is more than that, users are likely to abandon these sites for some fast ones.
SSL security means strong encryption. Encryption is a process of sending a coded message to specific people who have the key to decode or decrypt the message. This coded message gives hackers a tough time to penetrate and hence sites with HTTPS have less risk of being attacked by cyber-criminals.
Conclusion:
HTTPS has more benefits than you can imagine. Not only are they better for SEO rankings, but they also provide encryption security and excellent site speed performance, which leads to an increase in business growth.