Mobile phone technology is presently in an advanced form, boasting of many features and functionalities. One of the features that you may come across some handsets, mostly iPhones, is mirroring. What is mirroring? You may ask. It is where you transfer your iPhone's display to a larger screen, such as a PC monitor or on your television.
You can mirror iPhone to pc if you want to show other people something on your phone, maybe a new application or your phone's features. Do you know how to mirror iPhone to pc? The tech enthusiasts have an idea of this. However, if you do not know how to go about it, there is no need to worry as we will show you to go about it.
Benefits of Mirroring IPhone to Pc
There are several reasons why many iPhone users love this feature, top of them is that it allows for remote phone access. Once you establish the right iPhone screen mirror connection, you can scroll your phone option by viewing the television screen using a mouse or a similar peripheral device.
The feature is also excellent for educational purposes, more so in situations where you may have the learning material on your iPhone or iPad. Instead of passing the device from one person to another, you can mirror your iPhone to pc or television monitor. You can also use this feature for gaming, where you can experience your mobile phone games on a larger display.
Mirroring also makes it easy to control certain aspects of your device, such as multimedia. You can easily access your files and, if possible, save them on your pc. The process of mirroring your iPhone is effortless if you have the right tools. One of the tools you can rely on is the Wondershare MirrorGo.
Using Wondershare MirrorGo to Mirror IPhone to Pc
Follow these steps to understand how to access your iPhone screen mirror on your pc.
Step 1: Download the Program
Start by downloading the software on Wondershare MirrorGo's online platform. When downloading, you will realize there is only a version for Windows operating system, but it works with different versions like XP, Vista, 7, 8, 8.1, and 10. It is a showcase of its versatility. There is a free version thou you can try out a preferable premium package that you pay for to unlock excellent services.
The software is light, meaning it will be economical on your PC's storage space, and it will download fast. Once done with the downloading process, install it.
Step 2: Mirroring Your Device
With the program on your PC, you have to connect your phone to the same Wi-Fi network as your computer. Slide down your screen to access the 'Screen Mirroring' option, where you will select 'MirrorGo.' If you do not find this option, you can disconnect from your Wi-Fi network then connect again. It will start to mirror, and you will see your phone's home screen display on your monitor.
Step 3: Controlling With Mouse
For interaction with the screen, you need to connect your mouse. After the connection, you can go to the 'Accessibility' menu, then the 'Touch' option under 'Physical and motor.' You then turn on 'AssistiveTouch,' and you can now use your mouse to navigate the on-screen options.
You should make sure your phone's Bluetooth is on and connected to your PC. It works with the Windows 10 version.
Features of Wondershare MirrorGo
Among the things that make Wondershare MirrorGo be a reliable iPhone mirroring tool is its diverse functionality, which it owes to its various features. Let us look at some aspects of this software that makes it stand out.
Easy To Use
One of the things you may note from the guide on how to mirror iPhone to PC is that the process is straightforward, and even a beginner can pull it through. On the site, there is a guide that will show you how to pull the process.
Various Functionalities
Wondershare MirrorGo has plenty of functions that you will see once you mirror your iPhone. Some of them include navigation using a mouse, taking screenshots, and viewing and managing your phone notifications on the screen. It performs a great job of transferring your phone's display to the PC monitor, as you retain control.
Versatility
The program is also versatile, a feature you will note from its compatibility with different Windows operating system versions, such as XP, Vista, 7, 8, and 10. Its adaptability also comes to play when you look at the premium packages it offers.
It has three subscriptions; monthly, yearly, and quarterly, which you pay $5.95 a month, $25.95 a year and $10.95 quarterly, respectively. Among their perks include unlimited mobile devices, connection to 3 PCs, reverse control, notification management, and recording and screenshots.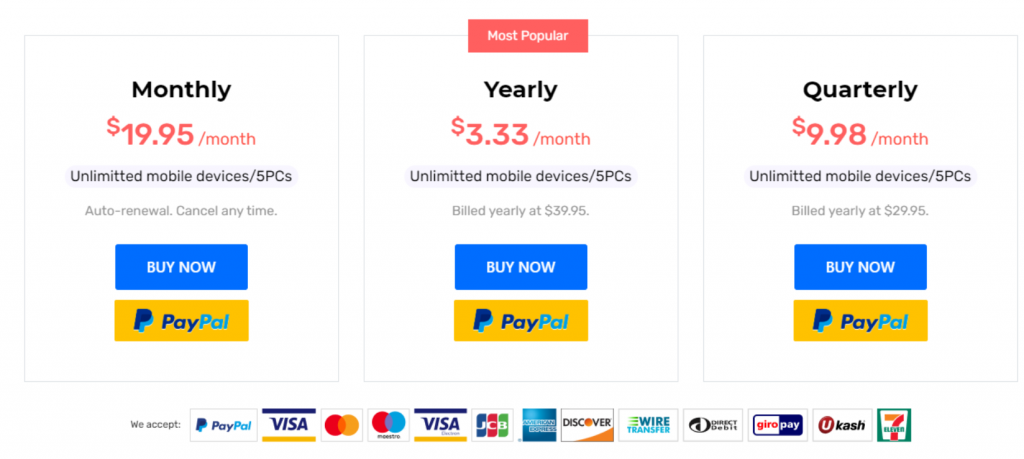 You also receive free software updates, and the program is 100% secure, meaning it poses no security or malware risk to your devices. You also benefit from a knowledgeable customer support team dedicated to serve you and ensure you have your issues sorted. You can access the support center 24/7.
In summary, here are some advantages of Wondershare MirrorGo.
It is user-friendly software.
The free version is suitable for trials to see what the app has for you.
The program works with different Windows versions, including the older ones.
You have full control of your device, and you can navigate using a mouse, take screenshots and manage your notifications.
The app is light and does not take much of your PC's storage space.
The software's premium versions have many resources that you can benefit from, one of them being unlimited phone connectivity.
Final Word
A more prominent display translates to many things in mobile phone use like an extensive viewership capability and easy navigation. If you have an iPhone, you can mirror it to your PC to have a larger display. Wondershare MirrorGo is an excellent tool to have, and with the display, you can use it for education purposes, gaming, or multimedia control. Download this program and, if possible, subscribe to the premium packages for a fulfilling experience.
Check Techrado for more!